Meet the Staff
We are a small, but mighty team, with a passion for what we do.
Have a question or comment?
You can reach us at 800-700-AITC (2482).
---
Judy Culbertson
Executive Director
Favorite Ag Memory
Growing up on my family pear ranch, I started selling lemonade in our packing plant, graduating to pushing boxes around a corner on rollers, and finally, managing the fruit process and distribution.
Loves About Her Job
It is a win-win. The farmers appreciate the good will we bring to ag. Teachers appreciate agriculture's investment in them and their students.
Fun Fact
I enjoy boating, gardening and training in motor cars in my free time!
With Ag in the Classroom
I started with CFBF when Ag in the Classroom was one of its programs, in 1980.
---
Lyn Hyatt
Administrative Coordinator
Why Learn About Ag?
Since I grew up in the city, it wasn't until I started working for Ag in the Classroom that I realized just how important agriculture is in our daily lives and how much we all benefit from it.
Favorite Ag Memory
The closest I came to ag was hearing stories about the chickens my grandparents kept in the backyard of their home in Rhode Island.
With Ag in the Classroom
Since 1989, just three years after it was founded.
Fun Fact
I love fiber arts—knitting, weaving, crocheting—all of it!
Projects
Grant administration, development assistance, special event assistance
---
Mindy DeRohan
Program Manager
Favorite Ag Memory
Growing up showing livestock (mainly pigs) throughout the state!
Loves About Her Job
Helping students and teachers truly understand where their food comes from. I am passionate about agriculture and education and this job allows me to work in an industry that I love while developing relationships with teachers throughout California.
Fun Fact
I love to run and have a one-year daughter who keeps us running all-the-time!
Projects
Taste and Teach, Imagine this… and special projects
---
Hayley Lawson
Curriculum Coordinator
Favorite Ag Memory
Every weekend, my family and I would travel to Waterford to go help at my uncle's cattle ranch. Running amuck with my cousins and taking the four-wheelers for joy rides were always a great adventure once the work was done.
Why Learn About Ag?
Agriculture and where your food came from used to be common knowledge. With the large disconnect from agriculture to consumer in today's day and age, it is important to educate the public about where their food, clothing, water, timber, and fuel are coming from. I am happy to be part of one of the moving pieces to help share the correct information with the next generations of agriculturists.
Loves About Her Job
Every day brings a new adventure! One day I am in the field, the next I am in the office. What other job do you get to work with farmers, ranchers, students, teachers, and the public?
Fun Fact
I can wiggle my ears! Currently section-hiking the Pacific Crest Trail! Youngest of 5 kids!
Projects
Curriculum Development including the following projects: Start to Finish (PPP), Farm to You, Commodity Fact Sheets, Ag Bites, Beef Council Campaign, and What's Growin' On.
---
Terri Salmond
Administrative Assistant
Favorite Ag Memory
In the summer, my cousin and I would run up and down the orchards eating as many pears as we could consume, until we were sick as dogs. Then, on the way home, we would always stop at the little roadside stands to get fruits and veggies to take home.
Why Learn About Ag?
Children need to learn their history in order to grow, in my opinion. The more they learn, the more well-rounded they will be. That includes learning where their food comes from.
Fun Fact
I love history and trivia. I learned to play chess at age four.
Projects
Office support, resource request processing, reception, database maintenance, general project support
---
Michael Ackley-Grady
Outreach Coordinator
Favorite Ag Memory
Growing up raising and showing livestock. My favorite experience was competing and showing goats at the National Western Stock Show in Denver, Colorado and having my friends, parents, and grandparents there for support.
Loves About His Job
I love connecting with people and being able to share my passion for agriculture and education. I love working in the agriculture industry where there is constantly change and new innovations.
Fun Fact
I own and operate a small farm with 30+ show goats.
Projects
AITC Partnerships, Literacy for Life Grants, Look at Agriculture… Organically Grants, County AITC Coordinator
---
Meet our Consultants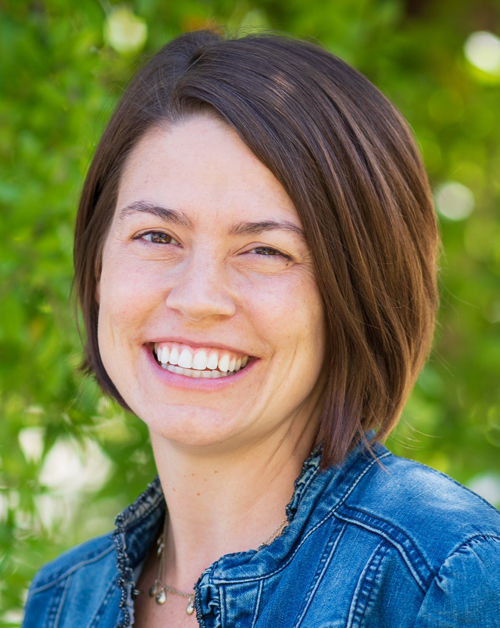 Mandi Bottoms
Curriculum Consultant
Favorite Ag Memory
Visiting my dad at work. He worked in a timber mill in Humboldt County for over 40 years. I was always amazed at the process of turning trees into useable products. Today, I make memories with my own family. I get to witness the same awe in my daughters' eyes as they ride tractors, watch prunes being shaken from a tree, and pick their own peppers.
Why Learn About Ag?
Agriculture makes learning relevant and interesting. It answers the question all students have asked since the beginning of time--"Why do I need to know this?" Math, science, language, history, art, and nutrition can all be taught using agriculture for context. Agriculture in the Classroom engages students with real-life problems that require students to carefully consider the world around them.
Fun Fact
I'm an avid cyclist and have completed several 100-mile rides.
Projects
Curriculum and resource development