California Agriculture in the Classroom Conference

2021 California Agriculture in the Classroom Conference
September 24-25, 2021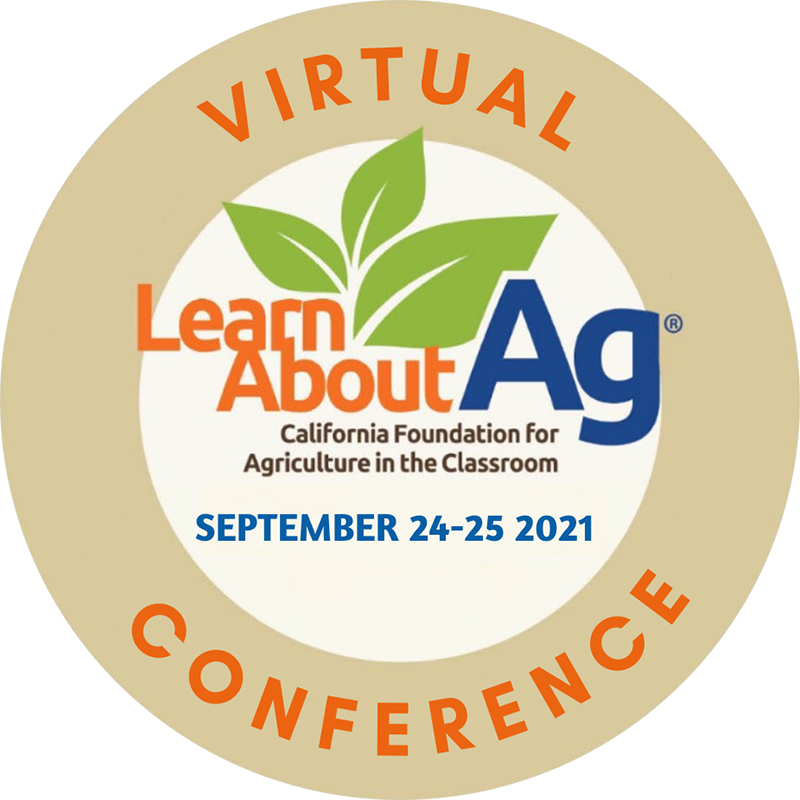 We are so excited to collaborate and share California agriculture with all of you, virtually! This is our 34th annual conference for educators, and our second on line. I hope you are ready to enjoy your time with us as we explore California agriculture together!
California agriculture is diverse—producing everything from vegetables, to milk, to fruits and nuts, and to field crops and livestock. Farming shapes the local landscape in each California county. We want to make sure your students learn about agriculture and how it contributes to each and every one our lives each and every day.
Teaching students about the journey their food and fiber undergoes from the farm to their everyday lives is an important message. Using Agriculture in the Classroom allows students to experience real life lessons that they will remember for the rest of their lives.
Although our conference lasts only two days, we hope you continue to LearnAboutAg® all year long! We are here to help you continue incorporating the theme of agriculture into your classroom, or for those of you new to our program, how to get started!
We look forward to your registration and "seeing" you on Zoom!
Sincerely,

Judy Culbertson
Executive Director
"There's something unique about what Ag in the Classroom provides. I know that I can trust these resources to be factual, informative, appropriate, and standards-based. Attention to detail, colorful graphics, and enthusiasm make these materials exceptional.
And I cannot wait to return to the Ag in the Classroom Conference for my annual dose of inspiration and up-to-date industry knowledge."
-Carrie Lawson Roberston, NBCT
Los Angeles Unified School District
---
2021 Conference Sponsors
---
Highlights of Previous Conferences